Do "angels" exist? If so, are they heaven-sent or products of the human brain?
In his previous bestseller, The Third Man Factor, John Geiger examined stories of explorers who found themselves at the edge of death and experienced a benevolent presence that led them out of the impossible. After that book's publication, Geiger was inundated with firsthand accounts from people who'd had the same experience-a visitation that aided them as they faced crises ranging from physical and sexual assaults to automobile accidents, airplane crashes, critical illness, childbirth, and devastating depression.
In The Angel Effect, Geiger brings together a breathtaking collection of personal stories about people who experienced what he now calls the Angel Effect: a Tucson woman involved in a serious car accident feels the reassuring presence of a mysterious nun; a Christian missionary during the 1994 Rwandan genocide senses the ethereal protection of angels; a young couple on a treacherous midnight drive through a snowy pass are guided by a middle-aged cleaning lady. In every case-including Geiger's own experience in 2008-the survivors are left to wonder if their benefactor was a physical reality, a trick of the mind, or an otherworldly visitation.
In this emotionally gripping narrative, Geiger argues that the Angel Effect has the potential to aid us, even to save us, and questions whether or not calling on a benevolent presence is a trainable skill that can be applied in moments of great need. Having investigated numerous historical accounts of these "sensed presence" experiences and compiled exhaustive scientific research into possible psychological and neurological causes for the phenomenon, Geiger reveals compelling discoveries about the human brain, the spiritual world around us, and our innate capacity to hope.
Reviews
Praise for The Third Man Factor:
"An astonishing study ... Geiger displays literary flair." - Daily Mail
"An intelligent rendering of a chilling phenomenon." - Kirkus Reviews
"Call it a guardian angel, call it hallucination…it's fascinating. Geiger's account combines history, scientific analysis and true-life tales to haunting effect. I couldn't put this down, and when I did I couldn't sleep for thinking about it." - The Bookseller
"John Geiger expertly blends harrowing accounts with scientific inquiry … a thorough, insightful examination." - Climbing
"Gripping… Whether this 'guardian angel' factor is neurological or divine, Geiger's fresh, insightful book will tell readers 'things that are not easily explainable, but no less real for that.'" - Publishers Weekly
"These are ripping tales, and Geiger tells them well." - Evening Standard
"Fascinating to read ... This deeply humane book is more than the sum of its parts: Geiger elegantly demonstrates how these divergent and very personal experiences reveal our profoundly social nature. ... Geiger is relentless and persuasive in investigating the science behind the experience, and describing the cascade of factors involved." - Maclean's
"The Third Man Factor is a mystery story that takes place in some of the most horrific environments imaginable. Geiger's book has a lot going for it: The many accounts of Third Man visitations in perilous situations make for edge-of-seat reading, and the citations and explorations of the theory of the sensed presence give the book scientific weight. It even contains a moral." - The Globe and Mail
"Hair-raising … provocative … a thoughtful investigation." - The Sunday Times
"One of the most intriguing premises of the year...it's not hard to see why The Third Man Factor has caught the public's imagination. Geiger seamlessly mixes high-octane survival tales with neurological theories, spiritual asides, psychological studies and historical accounts." - Calgary Herald
"John Geiger's book, his fifth ... offers an original theory for the evolutionary importance of 'Shackleton's angel.' Geiger is well positioned to tackle the historical and scientific background of these close encounters of the wild kind...Packed with edge-of-your-seat stories of survival and offer[ing] compelling looks into the transformative psychology of extreme experiences." - Canadian Geographic
"Riveting...truly relevatory...an important book" - The Explorers Journal
"At the outset this extraordinary phenomenon seems beyond objective proof, but as the book unfolds, Geiger presents a veritable case for the existence of a 'third man'. His study of the history of adventure, natural disaster and neurological theses provides some amazing insights into the psychology of man." - Sunday Business Post
"An anthology of gripping tales of derring-do, combined with a useful survey of attempts to explain a classic fortean phenomenon." - Fortean Times
"Convincing" - Times Literary Supplement
"Compelling...The Third Man Factor is a remarkable and detailed synthesis." - The Press (Christchurch)
"A fascinating look at the phenomena through the eyes of those who have experienced it." - Associated Press
"Compelling and profoundly intriguing." - The Courier-Mail (Brisbane)
"A fascinating, thrilling account of people in extreme situations and the Third man, the presence that appears to guide and encourage them." - Shelf Awareness
"The Third Man Factor is an energising defense of the power of human imagination." - Horizon Review
"Geiger effectively weaves together dozens of gripping adventure stories with the common thread of a doppelganger who has connected humans in varying extreme situations, around the globe and throughout history." - Women's Adventure
Quotes
"The incidents are fascinating, and reveal the strength of human beings to survive ... For strange possible other you, try The Third Man Factor."
"There is a curious force capable of guiding the destiny of men and women in extreme peril and John Geiger knows what it is. An extraordinary book."
"A fascinating concept that has to be taken seriously as too many people have claimed the experience. The Third Man Factor certainly makes you think."
"With an irresistible blend of harrowing anecdotes and hard science, John Geiger unravels the mystery of how the mind copes under extreme duress and in the process sheds fresh light on what it is to be human. A compelling, moving read."
"John Geiger's remarkable book illuminated for me my own Third Man experience while leaving intact all of its wonder and power."
"On my first Himalayan expedition my partner and I battled lightning and a blizzard on our descent from the summit of Dunagiri. As soon as we reached our high camp the two of us announced simultaneously, 'I felt there were three of us up there.' As well as validating my own experience, The Third Man Factor is a thorough exploration of this extraordinary phenomenon."
"What lies beyond resourcefulness, endurance, and courage? To answer that question, John Geiger follows explorers, mountaineers, solo-sailors, and disaster survivors to the ends of the earth. The Third Man Factor is a prodigious synthesis - elegant, entertaining, and important. If you enjoyed Frozen In Time, you'll love this book."
"A great insight into what drives humans to survive amazing hardship in harrowing situations."
"The Third Man, as John Geiger refers to it, is an enormously intriguing phenomenon, especially because it occurs in such a wide variety of circumstances. I was glued to the book."
"John Geiger skillfully and brilliantly takes on one of the world's most enduring mysteries: are we ever really alone? For anyone who has ever been on the edge of adventure or wondered why people push themselves to the limit-this welcome addition to the classic books on exploration illuminates why: the greatest discovery may not be on the maps at all."
Q & A
What is the Third Man Factor?
Many people who have survived life and death struggles have come forward to describe encounters with an incorporeal being who provided them with companionship, encouragement, guidance and hope, helping them to live. A good number of these cases involve people in extreme and unusual environments, such as the polar regions, alone at sea, or when climbing at high altitudes. However, other people, when confronted with personal stress under certain conditions, also encounter an unseen presence. In this book I have gathered together a large number of Third Man reports. I spoke to scores of people to try to understand what conditions are necessary to provoke the experience, how it affected them, and what explanations exist for the Third Man Factor. The book is my attempt to answer one question: "what is going on here?"
Where does the name "Third Man" come from?
The explorer Sir Ernest Shackleton had the experience in 1916 during his legendary escape from Antarctica after his ship Endurance was trapped and then crushed by the ice. Shackleton, and two of his men, were on the final leg of their harrowing journey. They had to cross an uncharted mountain range on the British possession of South Georgia, a sub-Antarctic island, in order to reach help at a whaling station. During that mountainous crossing each one of the three men had the sense that there was another "presence" with them, helping them. This became known as the fourth presence. But it didn't end there. The Anglo-American poet T.S. Eliot was inspired by Shackleton's story of an unseen companion, and included it in The Waste Land, the most famous poem of the 20th century. But Eliot changed the number, writing: "who is the third who walks always beside you?" Because of this, the experience became known among climbers and other explorers as the "third man factor" or sometimes "third man syndrome".
Why did you write The Third Man Factor?
When I was a child I had a very interesting experience. I was hiking with my father, a geologist, in southern Alberta, when I was confronted by a rattlesnake. My father was ahead of me, so it was a pretty terrifying encounter. Except that I had a sense that I was immediately detached from the scene. I viewed what unfolded from another, impossible angle. It was as if I were separated from my physical body. I always thought the whole thing very strange, and later put it down to a child's over-active imagination. Then, when reading Shackleton's book South, I realized that other people also had strange experiences when under extreme stress. I began searching, and immediately came across other examples, much like Shackleton's. Like Frank Smythe's meeting with an unseen companion high on Mount Everest, and Charles Lindbergh's experience during his Altantic crossing in the Spirit of St. Louis. I was hooked. I found many others, and then people started to bring me examples. Some involved people caught in natural and man-made disasters, including 9/11. I realized it was a very common occurrence, and began to think that people are in fact hard-wired for the Third Man. That makes the Third Man Factor not just an absolutely fascinating subject to write about, but something that can touch all of our lives in a positive way, under the right conditions.
Foreword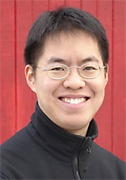 Foreword by Vincent Lam
Giller Prize-winning author of Bloodletting & Miraculous Cures
In his moving foreword to The Third Man Factor, Vincent Lam tells of his own Third Man experience during a highly stressful period of his life as he crammed to get into medical school. Writes Dr. Lam: "My visit from a Third Man, whom I believe to be my guardian angel, occurred within a personal moment of crisis, rather than in the grueling physical circumstances described by many of this book's subjects. This sits well with John's argument that the Third Man likely occurs more commonly than we recognize, and is not limited to extreme travel and exploration." It is, he argues, "a life-affirming force." Dr. Lam was born in London, Ontario, and grew up in Ottawa. His family is from the expatriate Chinese community of Vietnam. Dr. Lam did his medical training in Toronto, and is an emergency physician who also does international air evacuation work and expedition medicine on Arctic and Antarctic ships. His first book, Bloodletting & Miraculous Cures, won the 2006 Giller Prize.
Excerpt from Vincent Lam's Foreword
My visit from a Third Man, whom I believe to be my guardian angel, occurred within a personal moment of crisis, rather than in the gruelling physical circumstances described by many of this book's subjects. This sits well with John's argument that the Third Man likely occurs more commonly than we recognize, and is not limited to extreme travel and exploration....In the mysterious gap between our knowledge of biological mechanisms and our everyday experience as people, we find that things occur that are not easily explainable, but are no less real for that.
The Third Man is one of these phenomena. It is something that happens when people are placed in difficult circumstances, often when their very survival is at stake. Amazingly, despite the harrowing situations in which it often arises, most judge the experience to be valuable and positive - for many, a life-affirming force. The Third Man Factor is an account both of physically amazing voyages and personal discovery at the extremes of human experience. The Third Man speaks to both the ways in which we are fundamentally alone, and to the ways that as humans we always contain the possibility of relationship with others. It reassures us that even in the worst of times, help may come.
---